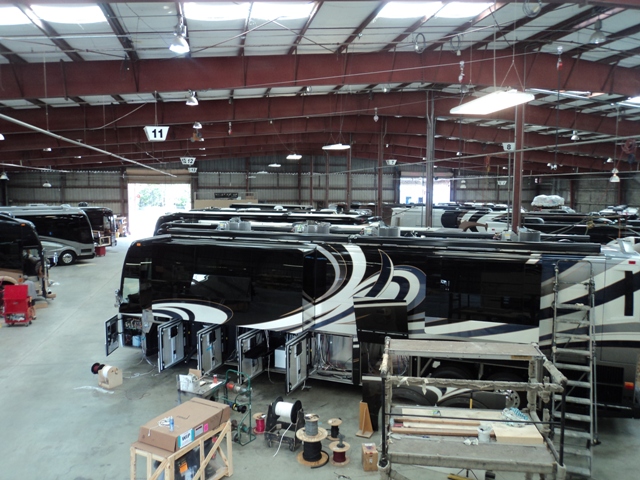 Visit Florida for the 2012 Tampa RV SuperShow, See Our Sponsors at the Super Show
or at Their Location
January is a great month to be in Florida. While winter is setting in elsewhere, the palm trees are swaying and
the sun is shining in Florida. The 2012 Florida RV SuperShow celebrates the best new products the industry has to offer on the
Florida State Fairgrounds, January 11-15, 2012.

I recently had the chance to travel throughout Florida to meet with some of the great people who create, service and sell Prevost Coach Conversions.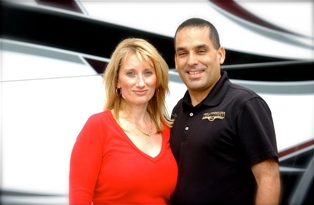 Evelyn and Nelson Figueroa, owners of
Millennium Luxury Coaches
| | | | | |
| --- | --- | --- | --- | --- |
| . | Chris Stroup gives a tour of the new Millennium facility | Production at Millennium | | |

My first stop was Millennium Luxury Coaches in Sanford, Florida. Millennium has develeloped an amazing new facility. The entire conversion process takes place
right there in Sanford and it is impressive. The attention to detail in everything they do at Millennium Luxury Coaches is evident. Owners Nelson and Evelyn Figueroa
personally take you through the process of creating the Millennium of your dreams.

Prevost-stuff.com and the Prevost Owners Group recommend a visit to sponsor locations while traveling
in the Sunshine State. You'll get a chance to see the facilities and people that service the Prevost Motorcoach
Industry in a more relaxed atmosphere.


Dave Wishnoff, Gary Patterson, Liberty GM Dave Wall
and President Frank Konigseder, Jr.


The Liberty Showroom is easy to find.




Pick the perfect Liberty for you!




They have a great selection.
I traveled down the coast to Stuart and dropped in on Liberty Coach. Their beautiful showroom and large selection of new and used Liberty Prevosts is impressive. General manager Dave Wall will help you with any questions you
might have about coaches available there or a custom design you are considering. The atmosphere at Liberty Coach is polished, professional and relaxing. Whether you purchase a new or used Prevost conversion from Liberty, you can rest assured that it will be of the highest caliber. The Stuart location allows you to take a walk on the beach and listen to the waves roll in as you consider which coach you would like to purchase!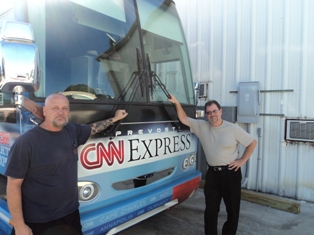 Owner Michael Bell and Ken Robertson of CoachWorX




Custom fixes are not beyond




Rick May and Ben Cummings.




Ken Robertson will find the coach




you are looking for.
Over in Clearwater I paid a visit to CoachWorX. They specialize in service and sales. Prevost Coach owners recognize Rick May and Ben Cummings as some of the best service techs around. Ken Robertson has joined the team at CoachWorX as a sales representative. While there they were busy finishing a custom retro-fit of an RVAC system in an H345. They do all facets of service from electrical, chassis and interior. Contact Michael Bell to schedule service or if you have any questions.
It was interesting to see the CNN Prevost bus being serviced there before in made the rounds of the political primaries. This broadcast mobile news command center was built at Parliament Coach. (see story)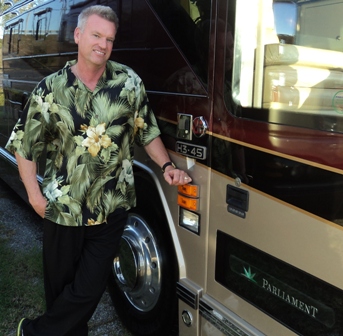 Steve Mitchell, owner Parliament Coach
| | | | |
| --- | --- | --- | --- |
| | | | |
Just across the way I stopped in to see Steve Mitchell of Parliament Coach. Steve has a great selection of coaches for sale and operates a full service facility as well. The Mitchell family has been in the bus business for a long time and brings a wealth of experience to the table. Parliament does coach upgrades as well as full coach conversions. Drop by and see Steve when you are in the area or give him a call at Parliament Coach.

The next stop was the Motorcoach Store . I met with the owner, Bradley Twait at his showroom in Bradenton, Florida. The Motorcoach Store is a new sponsor (see story) and it was my first visit to Bradenton.
I was very impressed with the facility and the quality of the coaches for sale. Call Bradley to make arrangments to visit and see the coaches that he has selected for his outstanding inventory.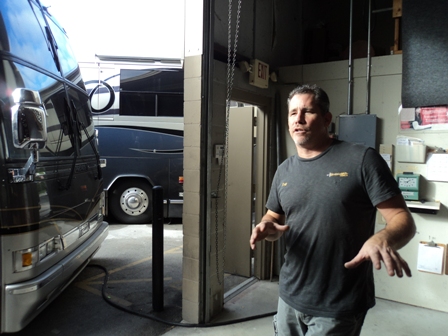 Doug Stolfo, owner of Excalibur Coach

Back in Sanford I dropped by to see Doug Stolfo of Excalibur Coach. Excalibur does full Prevost maintenance, service repairs and upgrades. Doug has perfected headlight upgrades and would be glad to
help update the appearance of your Prevost. At Excalibur they do everything from a small fix to a major overhaul. Give Doug a call, he runs a busy facility.

We appreciate the support of the sponsors of the websites and at our rallies. We believe their commitment illustrates their
dedication to the Prevost Community. They are established and well respected and hope you will pay them a visit while you are in Florida.
Look for Mike Lynch of Newcoast Financial at the SuperShow and in Clearwater for all of your financing needs. Call Mike in advance to your Florida travels to help with your financing and purchase of a Prevost.
The Tampa RV SuperShow also attracts sponsors and Prevost Converters from out of state. Look for Explorer RV Insurance Agency and Hearthside Grove .
Our Sponsor Map Will Help you Get There!